NASA to name Artemis 2 crew next week, the first moon astronauts in 50 years
We're a week away from a once-in-a-generation announcement: The names of the first moonbound astronauts in decades.
On April 3, NASA and the Canadian Space Agency (CSA) will together showcase the three Americans and one Canadian that will go to the moon on Artemis 2, which will launch no sooner than November 2024. The quartet will loop around the moon during the first-ever human lunar mission since the landing of Apollo 17 in December 1972.
The Artemis program will be more representative of the human population than Apollo was, NASA has pledged, with early missions including the first women and the first person of color to go to the moon. But which astronauts exactly will fly are still pure speculation, as all parties are keeping that information closely guarded until the announcement.
The big event will run from Ellington Field (near NASA's Johnson Space Center) in Houston and will be livestreamed on NASA Television (opens in new tab), as well as here at Space.com. The ceremony is scheduled to start at 11 a.m. EDT (1500 GMT) on Monday (April 3).
Related: NASA's Artemis program: Everything you need to know
Artemis 2 is a big moment for NASA, marking the first time in half a century that any human has gone close to the moon. Numerous presidents have tried and failed to start up moon programs in the decades after Apollo, but they lacked bipartisan will as the Cold War that helped spur early moon missions faded into the background.
Things are much different 50 years on. For example, governments don't need to bear the entire cost on their own any longer. Private space companies can supply some of the critical hardware and resell that work to other customers down the road. Examples include SpaceX's Starship that is slated to land Artemis 3 on the lunar surface no earlier than 2025. Companies Axiom Space and Collins Space are also each leading a team to develop spacesuits for lunar excursions.
To further reduce costs, NASA also laid out a different exploration structure through the Artemis Accords currently signed by 23 nations. The agreements are a framework of peaceful space exploration that in the shorter term will pool economic resources of other countries willing to go to the moon. 
Unlike in the 1960s when space exploration was a young industry with few participating nations, NASA thus will share the costs of Artemis lunar exploration with big players like the European Space Agency and Japan. Niche players like Canada will also provide critical hardware. Canada, for example, has famously contributed space robotics for NASA for more than 40 years.
Related: Axiom Space reveals prototype spacesuit for Artemis astronauts on the moon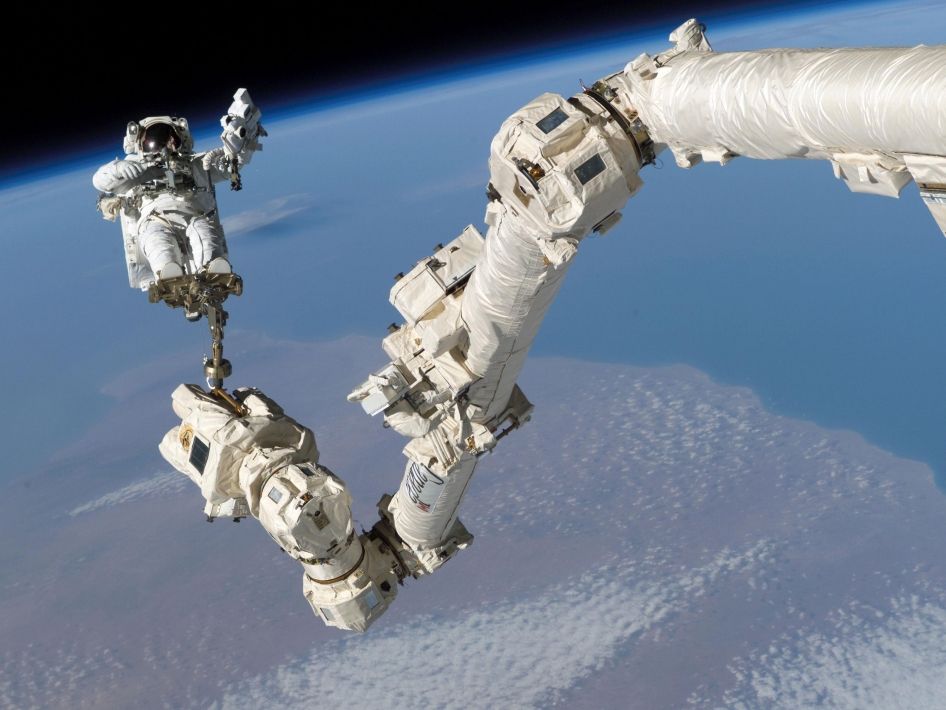 Canada has a long-standing and deep connection with the United States' space program starting with Canada's satellite mission, Alouette, in September 1962. The first Canadian astronauts were named in December 1983. Less than a year later, Marc Garneau was the first Canadian in space aboard space shuttle mission STS-41G in October 1984. (Garneau later went on to become CSA president and has just announced his retirement as a long-running Canadian Member of Parliament.)
Canada's Canadarm, developed in the 1970s, paid for Garneau's seat and many others. It was used on the critical path of space shuttle development, particularly for deploying and retrieving satellites. Canadarm first flew on the second-ever shuttle mission (STS-2) in November 1981 and was a staple of the shuttle program ever after.
Twenty years after Canadarm first flew, Canadian astronaut Chris Hadfield assisted with the installation of successor Canadarm2 on the International Space Station in April 2001. Canadarm2 and a "handy" robot, Dextre, are still operational on the complex today for space station servicing and maintenance. Canadarm2 was even repurposed for berthing of cargo spacecraft at the space station, a use for which it was not originally envisioned during development.
Related: What it's like to snag a spacecraft with the International Space Station's robotic arm
Then in 2019, CSA secured future space seats — including the one on Artemis 2 — by committing to building Canadarm3 to service the NASA Gateway space station around the moon. Canadian company MDA is building Canadarm3; the CSA also committed to furnishing lunar experiments, payloads and robots through its Lunar Exploration Accelerator Program (LEAP).
There's far more activity forthcoming as well. The CSA plans its first-ever independent moon rover in 2026; its science team will be led by planetary geology expert Gordon Osinski of Western University, who has brought several astronauts along on geology expeditions on Earth. Last year, CSA also signed a memorandum of understanding that may bring even more professional astronauts to space aboard missions run by Houston-based company Axiom Space.
The April 3 announcement concerning Artemis 2 follows big news for Canada announced in recent days; the country is planning to continue its participation in the ISS another six years to 2030, allowing the consortium to use the Canadian robotics for longer. The announcement was made last week when U.S. President Joe Biden was visiting Canada's capital of Ottawa.
Canada's ISS contribution is small, at just 2.3% according to the CSA (opens in new tab). But the robotics are an essential bit given Canadarm2 is used for spacecraft berthings and spacewalks, and all robotics are used for ISS maintenance.
Related: Canada joins NASA's Lunar Gateway station project with 'Canadarm3' robotic arm
Canada committed to the ISS extension "to access the unique space environment to conduct a variety of studies that will enhance our ability to live longer and healthier lives on Earth," Canadian Prime Minister Justin Trudeau's office said in a statement (opens in new tab). The White House confirmed the 2030 extension in its own news release (opens in new tab).
Biden also addressed Canada's Parliament (opens in new tab) on Friday (March 26) and mentioned the forthcoming Artemis 2 announcement, noting that it will be the first-ever moon mission including a Canadian.
"We choose to return to the moon together; together we'll return to the moon," Biden said in his Friday speech (opens in new tab), in an echo of a famous moon speech (opens in new tab) by then-President John F. Kennedy in 1962 at Houston's Rice University. 
"From there, we look forward to Mars and to the limitless possibilities that lie beyond," Biden added in his remarks.
Related: Artemis moon rocket looks ready for astronaut missions, NASA says
(opens in new tab)
With Canada's addition to the ISS extension team, all major partners aside from Russia have committed to work on the orbiting complex past 2024. The White House formally signed NASA's extension in August 2022, shortly followed by Japan and the European Space Agency in November of that year.
Russia, meanwhile, may be leaving as soon as 2028. Most of the country's space partnerships aside from ISS have been severed following Russia's internationally condemned invasion of Ukraine in 2022.
The CSA has not yet made an independent statement about the ISS extension, but it may be holding that until after Canada announces its federal budget late on Tuesday (March 28). Given the top-level attention paid to Canadian space in recent days, it's possible more space announcements may lie in the budget, too.
Elizabeth Howell is the co-author of "Why Am I Taller (opens in new tab)?" (ECW Press, 2022; with Canadian astronaut Dave Williams), a book about space medicine. Follow her on Twitter @howellspace (opens in new tab). Follow us on Twitter @Spacedotcom (opens in new tab) or Facebook (opens in new tab).