Antares rocket launches ovarian cells and other wild experiments to space station for NASA
Antares rocket launches ovarian cells and other wild experiments to space station for NASA (Image Credit: Space.com)
Ovarian cells from cows are moo-ving to the space station, along with a batch of other intriguing science experiments aboard a Northrop Grumman cargo ship that soared into orbit early Monday (Nov. 7).
The Northrop Grumman Cygnus cargo ship launched toward the International Space Station (ISS) on the company's Antares rocket at 5:32 a.m. EST (1032 GMT) from the Mid-Atlantic Regional Spaceport at NASA's Wallops Flight Facility on Wallops Island, Virginia. The launch was delayed by 24 hours due to a fire alarm at Northrop Grumman's flight control center in Dulles, Virginia that forced a building evacuation.
Monday's launch, however, appeared flawless, with the Antares rocket lighting up the predawn sky as it launched into orbit. About 8 minutes later, the Cygnus NG-18 spacecraft, named the SS Sally Ride in honor of astronaut Sally Ride, the first American woman in space who died in 2012, reached orbit and was expected to unfurl its twin solar arrays. If all goes well, the Cygnus spacecraft should arrive at the space station early Wednesday (Nov. 9), where it will be captured by astronauts using a robotic arm at 5:05 a.m. EST (1005 GMT) and attached to an open berth.
Related: NASA-funded spacesuit tech may help with menopause relief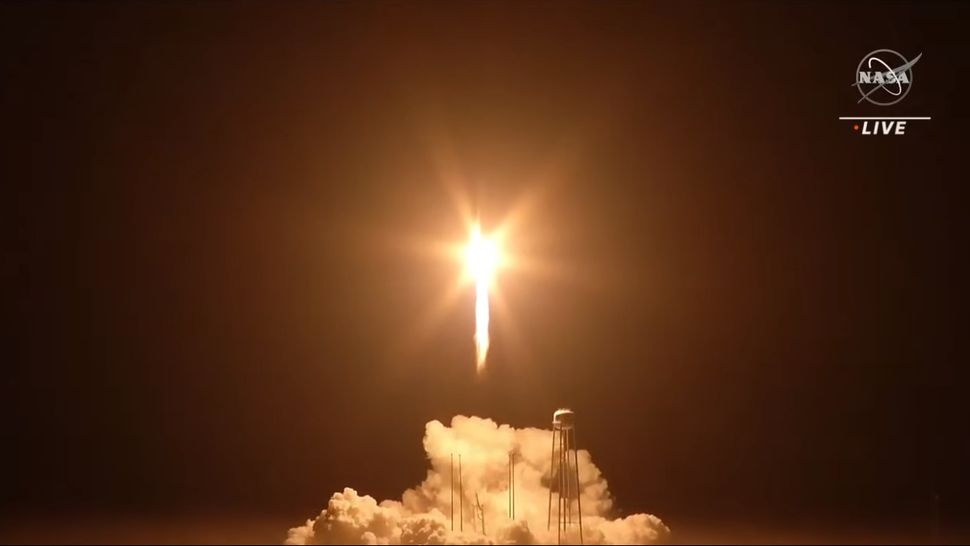 "This is a very exciting time for research on the International Space Station," said Heidi Parris, NASA's associate program scientist for the station program, in a prelaunch briefing Nov. 5. "Every new vehicle that launches is bringing up not only new research but also new capabilities."
The Cygnus NG-18 cargo ship is carrying 8,265 pounds (3,749 kilograms) of supplies for the space station crew. That includes 3,608 pounds (1,637 kg) of crew supplies, 1,873 pounds (850 kg) of science gear, 145 pounds (66 kg) of spacewalk equipment, 2,375 pounds (1,077 kg) of vehicle hardware and 172 pounds (78 kg) of computer resources, NASA officials said. Northrop Grumman said the flight is its heaviest cargo delivery yet, and includes an extra 44 pounds (20 kg) of cargo due to payload optimization.
While the cargo ship did launch a week after Halloween, there were some treats for the astronauts aboard the Cygnus, NASA said.
"This is really our first approach, and it is for the moment an observational study," Fuso, who is also an associate professor at the Sapienza University of Rome, said during a livestreamed press conference on Oct. 25. After the results are in, the investigators will research possible drug interventions or edible (nutraceutical) additives to improve fertility outcomes in future studies, he added.
Also heading to the orbiting laboratory is a 3D printer known as the BioFabrication Facility, which also reached space in 2019 to print some human knee cartilage (specifically, the meniscus), and a set of human heart cells.
"We brought [the printer] back to our lab in Indiana … to add a few new capabilities, such as the ability to finally control the temperature of each printhead, and now we're excited to see it launch," said Rich Boling, vice president of corporate advancement for in-space manufacturing and operations at the company Redwire Space, in the same conference.
Related: Bioprinter will 3D-print human tissue on the space station
After another space shipment, Redwire will print a new meniscus and study it in the lab to get ready for possible patient transplants in the future, Boling said. Blood vessels and cardiac tissues will be manufactured as well. Redwire also plans drug efficacy testing in space on "organoids," or miniature versions of organs.
Boling hinted that such research would continue on Orbital Reef, a Redwire-supported commercial space station in development for flight in the 2030s. The project is led by Blue Origin and Sierra Space, and includes partners like Boeing and Amazon.
Some of the other experiments making their space debut include, in the words of NASA (opens in new tab):
Monday's launch marked the first flight of a Northrop Grumman Antares rocket, which uses a Ukranian-built first stage and Russian rocket engines, since Russia invaded Ukraine in February of this year. At the time, Northrop Grumman said the company had enough components for its next two Antares missions: the NG-18 mission that launched Monday and NG-19, which will likely launch in the first half of 2023.
"Really it's been unaffected," Kurt Eberly, Northrop Grumman's director of space launch programs, told reporters before launch. "We've been in communication with the suppliers and the situation is normal for the processing."
Northrop Grumman is developing a completely new first stage booster built by the U.S. company Firefly Aerospace that uses that company's engines. Called the Antares 330, the rocket will be more powerful than current Antares vehicle and will be launch payloads of up to 23,000 pounds (10,500 kilograms) into orbit, allowing its Cygnus vehicles to carry up to 11,000 (5,000 kg) more cargo.
Editor's note: This story was updated on Nov. 7 to note the successful launch of the Northrop Grumman Antares rocket and Cygnus NG-18 cargo ship.
Elizabeth Howell is the co-author of "Why Am I Taller (opens in new tab)?" (ECW Press, 2022; with Canadian astronaut Dave Williams), a book about space medicine. Follow her on Twitter @howellspace (opens in new tab). Space.com Editor-in-Chief Tariq Malik contributed to this report. Follow us on Twitter @Spacedotcom (opens in new tab) or Facebook (opens in new tab).