'Star Trek: Lower Decks' crew handbook explains life aboard the U.S.S. Cerritos
'Star Trek: Lower Decks' crew handbook explains life aboard the U.S.S. Cerritos (Image Credit: Space.com)
Lower decks! Lower decks!
"Star Trek: Lower Decks" is zipping through its fourth season on Paramount+ and the comedic animated series is becoming increasingly popular across the streaming frontier and beyond with its colorful antics and sharp humor depicting the chaotic lives of junior officers aboard the starship U.S.S. Cerritos.
With the season finale arriving on Thursday, November 2, 2023, loyal fans of this hyperactive sci-fi show can fill in the gap left by the "Star Trek" series' temporary absence with a new informative manual from Titan Books titled "Star Trek: Lower Decks – U.S.S. Cerritos Crew Handbook" arriving in our galaxy on Dec. 19, 2023.
Related: 'Star Trek: Lower Decks' creator shares how to find humor in Starfleet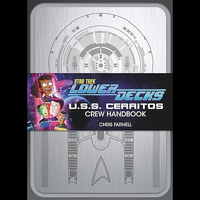 Star Trek: Lower Decks – Crew Handbook: Pre-order for $26.96 on Amazon
Join the Lower Deckers as they offer their advice and experience to new crewmembers aboard the U.S.S. Cerritos. Featuring art from the series and comments written by the characters of "Lower Decks" themselves, this handbook makes a great gift for the Trekkie in your life. Pre-order now for a Dec. 19, 2023 release.
This 176-page manual written by pop culture journalist and bestselling author Chris Farnell offers new Starfleet recruits assigned to the U.S.S. Cerritos a comprehensive guidebook covering nearly everything a jubilant young star voyager would want to learn about their swift interstellar vessel and its complex inner workings.
Here's the official synopsis:
"A funny and illuminating guide to life on the U.S.S. Cerritos from 'Star Trek: Lower Decks,' through the eyes of the beloved lower deckers themselves. Join the crew of the U.S.S. Cerritos as they seek out new life and travel where people may, or may not, have been before!
"Based on the hit Paramount+ animated series 'Star Trek: Lower Decks,' Mariner, Boimler and all their friends offer advice and insider knowledge to new crewmembers. This hilarious and informative handbook will help you come to grips with the ship, your duties, and your fellow lower deckers, especially as they've generously left comments throughout."
Created by Mike McMahan ("Rick and Morty," "Solar Opposites") and animated by the talented artists at Titmouse, "Star Trek: Lower Decks" features a stellar vocal cast that includes Tawny Newsome (Ensign Beckett Mariner), Jack Quaid (Ensign Brad Boimler) Noël Wells (Ensign Tendi), Eugene Corder (Ensign Rutherford), Dawn Lewis (Captain Carol Freeman),  Jerry O'Connell (Commander Jack Ransom), Fred Tatasciore (Lieutenant Shaxs), and Gillian Vigman (Doctor T'Ana).
Titan Books' "Star Trek: Lower Decks – U.S.S. Cerritos Crew Handbook" lands on Dec. 19.