How This Little-Known Air Force Data Center Affects the Entire Military
How This Little-Known Air Force Data Center Affects the Entire Military (Image Credit: airandspaceforces)
OFFUTT Air Force Base, Neb.–From the outside, it looks like any other U.S. government building, complete with brick walls, a glass facade, and an American flag out front. But the 557th Weather Wing headquarters here is more than brick and mortar. It is a nerve center that helps military commanders around the world answer one of their most important questions: what's the weather?
"The level of customers that we have range all the way from the guys sitting out there in tanks to the guys in the Pentagon who need to know cloud coverage so they can see the ground" from space, Mike Thompson, a civilian cyber support technician with the 2nd Weather Support Squadron, a component of the 557th Weather Wing, told Air & Space Forces Magazine.
Forecasts produced by the 557th Weather Wing drive hurricane evacuation, survival, and rebuilding plans for commanders and emergency managers in the storm path; rain and snow forecasts impact soil moisture, which Army commanders use to plan mobility operations; analysis of turbulence and thunderstorms influence aviation route planning and fuel consumption rates; and reports on unfavorable space weather help commanders anticipate threats to satellite communications and GPS.
"There are some products we produce that, if they stopped going out, the commander will get a phone call within the hour," Thompson said.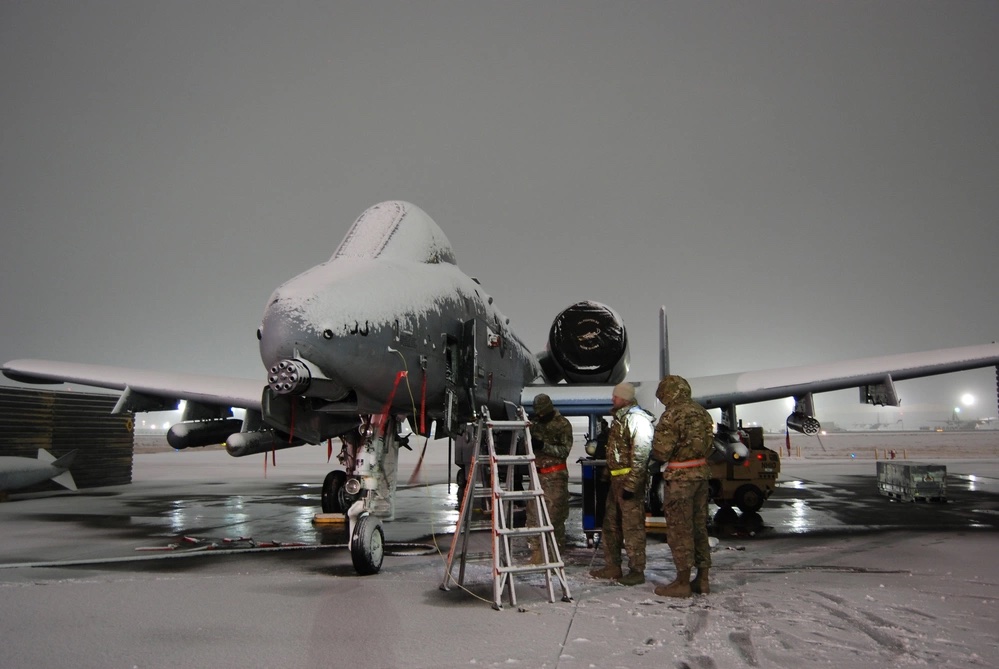 Forecasts cannot be made without data, and the data pouring into the 557th Wing headquarters come from a wide range of sources. The Air Force itself produces some of that data through weather squadrons assigned to Air Force and Army units worldwide. A retired master sergeant with 24 years of Air Force service under his belt, Thompson spent plenty of time producing that data himself while downrange in support of Operations Desert Shield, Desert Storm, and Northern Watch.
Beyond Air Force weather squadrons, the 557th also pulls in data from military satellites and satellites operated by civilian agencies such as the National Weather Service (NWS), the National Oceanic and Atmospheric Administration (NOAA), and partner nations. The 557th often passes satellite data from agencies like NOAA on to other services, making the wing a kind of "satellite broker for the Department of Defense," Thompson said.
Satellite data is vital for building future weather models. Running those simulations takes a lot of computing power, which is why the 557th operates a $322 million strategic weather high-performance computing center.
"As the Air Force's largest Special Purpose Processing Node, the computing center is the linchpin force enabler for U.S. Air Force and U.S. Army weather support operations," according to the wing's website. "These computing assets generate thousands of critical environmental products and services and deliver essential weather information to forecasters and operational end users every day—on a global scale."
More data helps produce more accurate forecasts, but U.S. military planners are not the only ones who want that data, which is why Thompson and other cybersecurity professionals with the 2nd Weather Support Squadron are tasked with keeping the nerve center safe from cyber threats. It is a difficult task since the 557th takes in data from such a wide range of sources.
"I was pretty flabbergasted by how many connections we have," Thompson said.
About 150 enlisted Airmen and civilians across three squadrons are responsible for cybersecurity for the 557th. As a cyber support technician, Thompson analyzes the wing's data and networks for threats and vulnerabilities. If any irregularities are spotted, the cyber team investigates them for possible dangers, but ideally, the team identifies vulnerabilities and resolves them before they can be exploited.
"We're looking for bad actors who are knocking on the door and trying to get in," he said.
With so much information and such a critical mission, the data center's cybersecurity staff is on the lean side, Thompson said, but they make the best of what they've got–the mission is too important for anything less.